CKS College News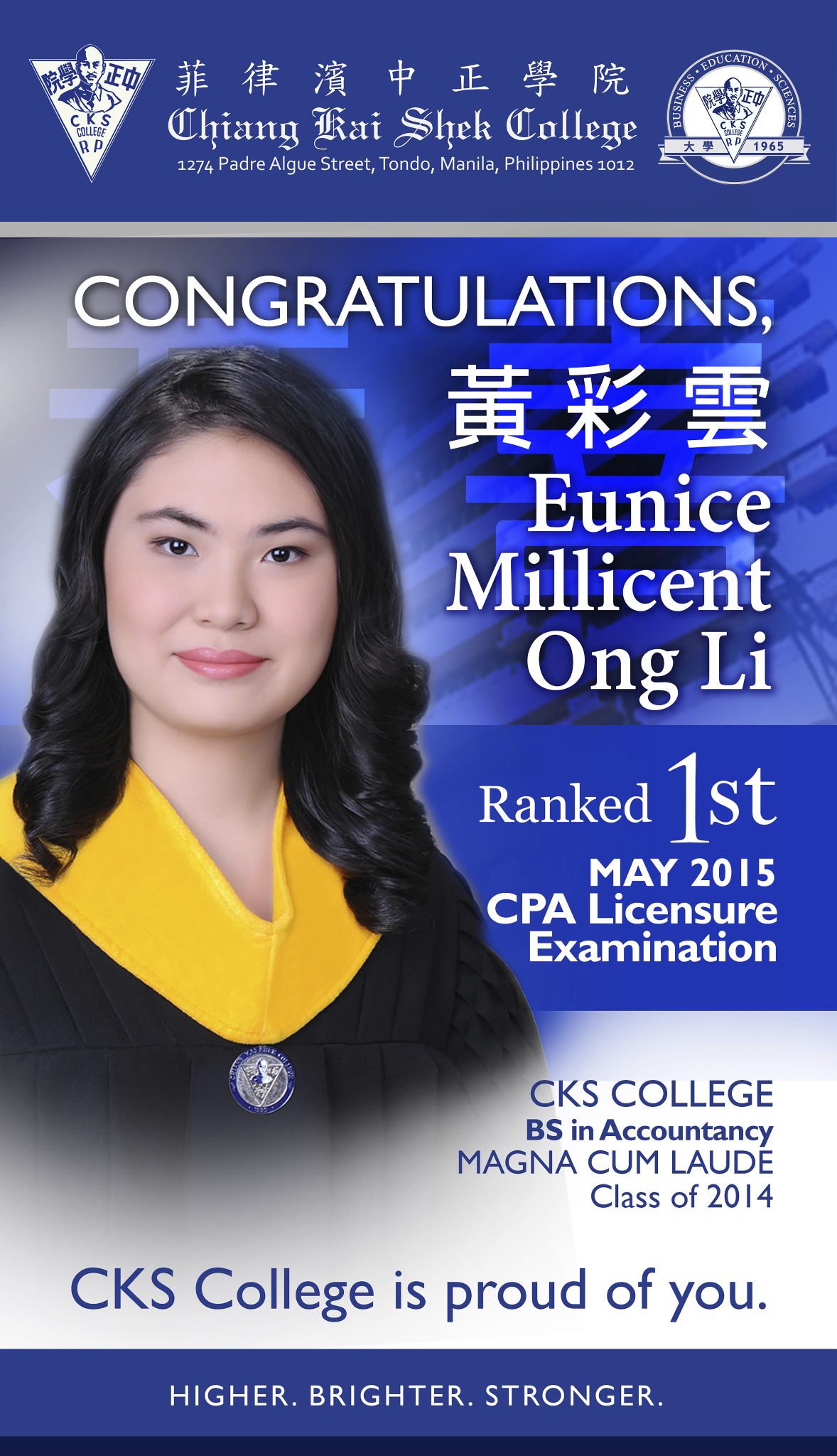 Eunice Millicent Li, a BS in Accountancy graduate of CKS College, topped the May 2015 CPA Board Exams, with a rating of 92.29%. She graduated Magna Cum Laude from CKS College last March 2014. Ms. Li now joins the ranks of CKSian  CPA achievers and topnotchers, which include Mr. Jan Marcus Tang (2nd Placer, May 2010 CPALE) and Mr. Benson Kotah (6th Placer, May 2012 CPALE).
The list of topnotchers can be viewed HERE.
The CPA Licensure Exams (CPALE) were held on May 10, 11, 17, and 18. The results were released on May 21, 2015. Among the takers, 2,132 out of 5,959 passed. The list of passers can be viewed HERE.
Also passing the CPA Licensure Exams are the following CKSian achievers:
AMBAS, Kaypee
CARAG, Mary Grace
DEDELL, Ma. Alyssa
DELA RAMA, Rachel
ESTARGO, Kristine Belle
ESTERA, Mark Oliver
FARAON, Floyd Gerard
GACULA, Raya Risha
GUIAM, Jennah Claudine
LIM, Nikki Anjonette
MAGAOAY, Rhose Azcelle
NATIVIDAD, Reinmar
ROA, Jean Marie
TRINIDAD, Kamille Marie
VELASQUEZ, Dawn
Congratulations to Ms. Li and the other new CKSian CPAs!