November 16, 2018 10:43 AM
---
 CKS College Language Center 語言中心
Rm 202, 1477 Narra St., Tondo, Manila
252-6161 (local 3109)
The CKS College Language Center opened its doors in the year 1990. Having started as the Language Learning Laboratory, its primary objective was to encourage the learning of the Chinese language for a better understanding of Chinese culture.
Today, the CKS College Language Center not only continues to offer short Chinese courses but has also introduced English and Filipino courses to meet the needs of learners who want to become proficient in these languages. Courses for professionals and English speakers are now available to help motivated individuals communicate more effectively and more confidently.
The CKS College Language Center is an easily accessible language center in the heart of Manila, offering quality Chinese, English, and Filipino courses at reasonable prices.
It aims to ensure that students learn the language/s of their choice effectively and reach their learning goals. Whether the objective is to learn a language for fun or out of curiosity, to improve career oportunities, to prepare for an English language exam, or just to learn about Chinese, English, or Filipino culture, the CKS College language Center welcomes you!  
For more information and updates visit our Facebook page at: https://www.facebook.com/CKS-College-Language-Center-304648319703292/?ref=aymt_homepage_panel or call 252-6161 loc.3109.
COURSES OFFERED For Learners at Least 15 Years of Age
I. Mandarin Classes     普通話(華語)班
    A. Chinese Language Proficiency Courses      漢語能力課程
        1. Fundamental Chinese      基礎漢語
        2. Basic Chinese 1,2      初級漢語 一、二
        3. Intermediate Chinese 1,2       中級漢語 一、二
        4. Advanced Chinese      高級漢語
    B. Chinese Conversation       漢語會話
    C. Business Chinese 1, 2      商貿漢語 一、二
II. Fookien Classes 1,2       閩南語班 一、二
III. Filipino Classes 1,2       菲語班 一、二
IV. English Classes       英語班
    For non-English speakers       不識英語者
    A. English Zero      基礎英語
    B. General English 1,2,3      一般英語 一、二、三
    C. Express Yourself 1,2,3       英語會話 一、二、三
    D. Grammar Focus 1,2,3      英語語法 一、二、三
    E.  Reading Matters 1,2,3       閱讀 一、二、三
    F. Pronunciation 1,2       英語正音 一、二
    G. Basic English for Employment Communication      職場溝通基礎英語
    H. Basic English for Foreign Chinese Teachers      漢語教師初級英語班
      For English speakers       識說英語者
    A. Grammar Review 1,2       文法複習班 一、二
    B. Public Speaking and Presentation Skills       公眾演講技巧班
    C. English for Careers 1,2      職業英語班 一、二
All courses require 30-hour sessions.
Special/ tailor-made courses can be designed for big groups / corporate groups.
    New Offerings:
      Cantonese  廣東話          Nihongo 日語         Spanish  西班牙語        Korean  韓語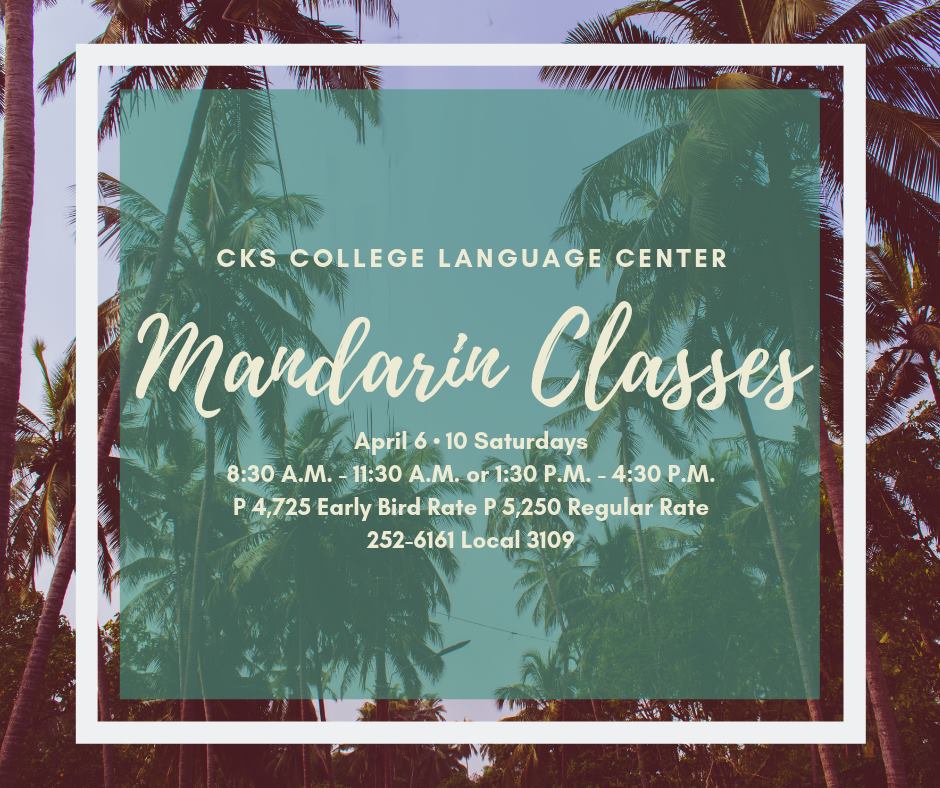 Reserve a slot for batch 3 here: https://docs.google.com/forms/d/e/1FAIpQLSexWDFtzw0uLphCSeFimfFLy97aTkMnHRinkYTvMQu-A9wHhQ/viewform