Created on May 29, 2015 2:03 PM
Last Updated on June 15, 2015 1:52 PM
May 29, 2015 2:03 PM
---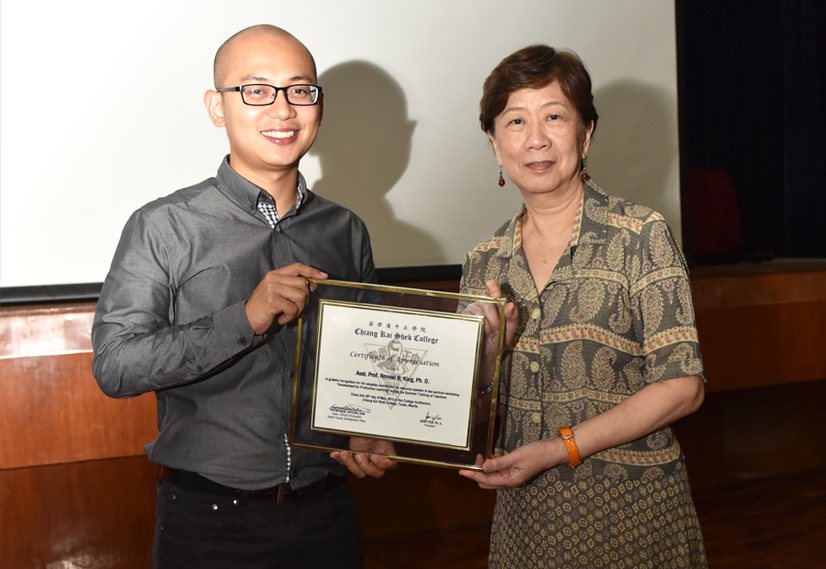 To be able to design and provide appropriate assessment tools, to effectively measure students' developments and abilities, and to ensure learners' success by facilitating effective assessment are some of the goals of the seminar, "Assessment for Productive Learning", held at the College Auditorium last May 26. Organized by the head of the Faculty and Development, Dr. Raymond Q. Datuon, the guest speaker was Dr. Ronnel B. King, a professor from Hongkong University and a former colleague of the college president, Dr. Dory Poa, at the National University of Singapore.
The said seminar was participated in by teachers from preschool, elementary, and junior and senior high schools. To make the seminar interactive, teachers were asked to give examples of their assessment activities or tools used in the classroom in accordance to Bloom's Taxonomy. Dr. King motivated the teachers to employ assessment that encourages students to evaluate materials, to think critically, and to create or compose such as essay writing, role playing, video presentation, and illustrations. According to the speaker, the highest level of learning must often be the focus of assessment in relation to the development of 21st century skills. Dr. King differentiated formative and summative assessments. Furthermore, examples for each type of assessment were presented. In fact, he even showed the uses of these assessments in video excerpts from the movie, Harry Potter. Aside from these, he also presented system of evaluating students' works such as his own rubrics that he used in grading essays. The talk challenges the teachers to unify instruction and assessment to keep track the learning standards in these modern times.
Dr. Poa graced the event and awarded the Certificate of Appreciation to Dr. King. The seminar was hosted by Mr. Michael Ong, Biology teacher from Junior High School. The seminar was a success through the supervision of the Faculty and Development Office, and the assistance of Junior High School Department and Guidance and Counseling Services.
by: Brenda R. Ong